The body can reveal what the tongue won't. It is a fact that more than 70% of our communication is non-verbal and that our expressions, looks, body-movements, gestures, etc. can reveal a lot more than we would like to admit. Needless to say, people pay close attention to the body language of celebrities to know more about their thoughts and moods, and especially the dynamics of their relationships. And the interest is ever-piqued if the people are royal, handsome, and beautiful!
Ever since Prince William married Kate Middleton, and Prince Harry tied the knot with Meghan Markle, people's interest in their inner lives and their relationship has increased. We are keen to notice their every move and we listen to their every word to know more about the inner workings of their lives. And so, we have 5 great instances of the times when these beautiful couples told us more than they wanted to:
1. William and Kate are more formal Compared to Harry And Meghan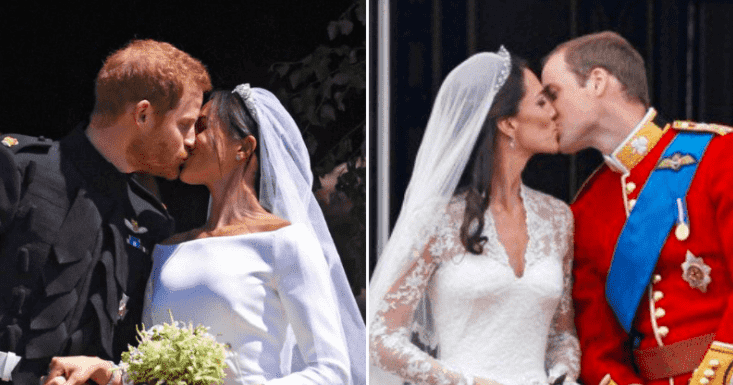 The wedding kiss revealed that William and Kate are not that comfortable with an open display of love while Harry and Meghan do not mind showcasing their affection in front of the world. As presented by Cosmopolitan, Prince William kept the kiss short and precise while Harry and Meghan comfortably kissed each other.
2. They both love their spouses
This is something common between both couples. Their love for each other is visible in almost any image you may see and they are quite comfortable in each other's company. While the way they display their affection may vary, their smiles, as they look towards each other, reveals that they understand each other at a deeper level and are proud to be in each other's life. Just look at the twinkle in their eyes and you will know that their love is as real as it gets. According to Womenshealthmag, their love never falters.
3. Meghan and Harry are playful while William and Kate are complementary
When you look at Meghan and Harry, you know that they are younger, and more playful in their relationship. The way they are around each other appears fun, casual, and relaxed. According to Cosmopolitan, Prince William and Kate, on the other hand, appear as the power couple who completely complement each other in all aspects of their lives. They are cool, composed, and quite 'royal' in the way they appear. They look like the kind of couple with a deep understanding of what's expected of them and with the willingness to play that part to perfection.
4. Harry is more comfortable with children when compared to William
The images of Harry and William presenting their kids to the world for the first time were unforgettable. Both the royal parents were proud as they carried their newly borns in their arms and cuddles them in front of the cameras. William, however, appeared stiffer with tight shoulders, and he seemed quite conscious of the way he was carrying the child. According to GoodHouseKeeping, Harry appeared natural, relaxed, and definitely at ease with the baby in his arms.
5. They are attentive partners
Prince Harry and William are both highly attentive partners. According to WomensHealthMag, Harry and Meghan always seem happier on their own. The two couples have been photographed a million times talking to their spouses in public places and you can tell by their expressions and the way their bodies turn towards their wives that they are paying complete attention to what the ladies have to say. This is an amazing thing to have in a relationship, to be caring and attentive to each other, no matter the time or place. And this is one aspect of their relationship that is evident time after time.