The holidays are almost here and people are ready to finally have some fun given that the pandemic has sucked the soul out of many. With shopping, decorations and feasts being planned, it's stressful but it's still something to look forward to. In fact, even puzzle master Gergely Dudás is ready to share with his fans more exciting Christmas-themed and winter seek-and-find brainteasers.
Dudás, a.k.a the Dudolf, is a children's book illustrator who is famous for creating three seek-and-find puzzles books with different themes filled with all the brainteasers you desire, according to Woman's Day.
In this particular puzzle, Dudolf asks his viewers to find the sheep hidden in the many Santas. You'd think it would be easy given that they're two different beings altogether. So why don't you try it and see how wrong you might be. Take a look at the puzzle below and try to find the sheep.
The artist has clearly not made it easy for the rest of us. Some of his noteworthy works include Bear's Springtime Book of Hidden Things, Bear's Spooky Book of Hidden Things (Halloween) and Bear's Merry Book of Hidden Things (Christmas). Dudolf's often challenging and mentally-stimulating puzzles can also be found on his website and across his social media platforms. And much like this one with the Santas and the sheep, it's not as easy we might think it is.
No luck finding the sheep? Here's the answer: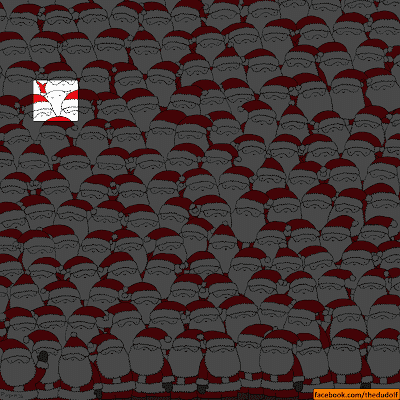 Hope you enjoyed wracking your brain and testing your eyes! Merry Christmas!