Four young children were swept away from their parents' grip in a tragic story from Kentucky. The children aged in the range 1-8 were found dead later after being washed away in the Kentucky floods that have so far claimed the lives of at least 28 people. Amber Smith and Riley Noble's home in the Montgomery community was filled with water on Thursday and they headed to the roof along with their four kids. As they stood on the roof, the underneath washed out, throwing them into the water. "They managed to get to a tree and ... held the children a few hours before a big tide came and wash them all away at the same time," said Brittany Trejo, a close family member, reported Kentucky.com "The mother and father were stranded in the tree for 8 hours before anyone got there to help," said Trejo.

Both parents have been found alive. It was confirmed that all four children passed away. The bodies of Riley Jr., 6, and Nevaeh Noble, 4, were recovered the same day while the bodies of Maddison Noble, 8, and Chance Noble, 1 1/2, were found Friday morning in the Knott County community of Montgomery. Governor Andy Beshear had confirmed the deaths of four children among others. Heavy rainfall has caused heavy floods submerging parts of Eastern Kentucky including counties of Breathitt, Floyd, Perry, Knott, Leslie, Pike, and Magoffin.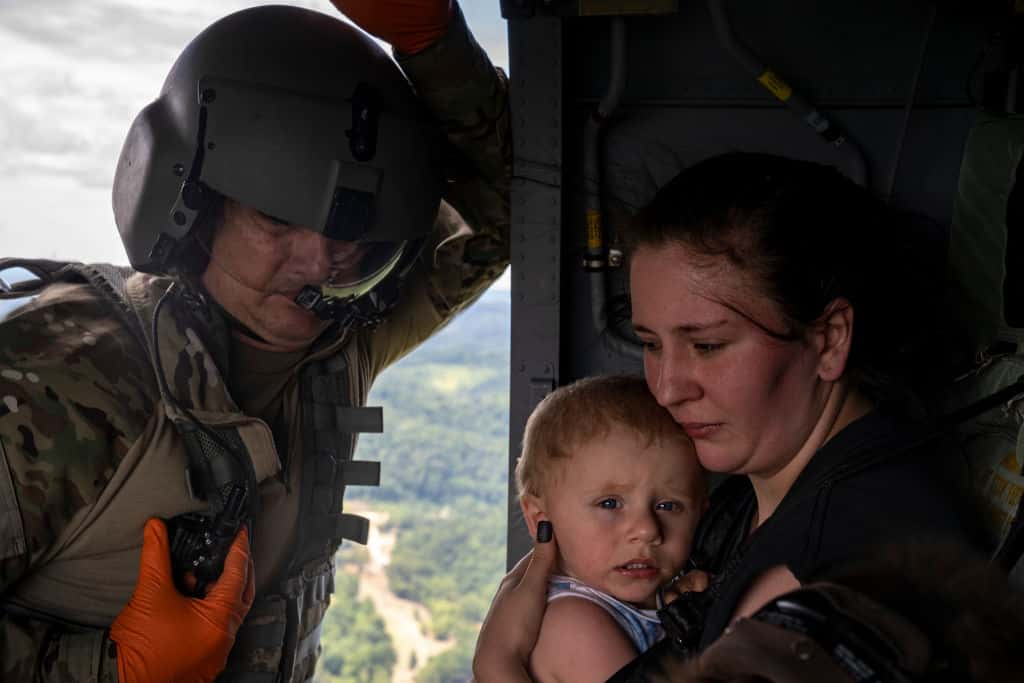 "The numbers, I think, are going to be really hard to tell right now because some of the people they haven't got to yet, and I'm sure some of the coroners haven't been able to report them," said Kentucky State Police spokesman Shane Goodall. "It's pretty much impossible to have an exact count at this point due to many missing people." Governor Beshear said the same with many people still missing. "We do know of additional bodies that have been recovered but we cannot confirm those deaths at this time," said Beshear.
Thousands of people have been displaced along with heavy damage to infrastructure and property. Beshear confirmed government officials were trying to establish additional shelter options. He also warned the people to brace for more rain in the coming days. "Next couple days are going to be hard," said Beshear. "We've got rain and maybe even a lot of rain that's going to hit the same areas. Please pray for the people in these areas. And if you are in the areas that are going to get hit by rain, make sure you stay safe. Make sure you have a place that is higher ground. Go to a shelter. Just please, please be safe," he said, reported NPR. "You should monitor later forecasts and be alert for possible flood warnings," said the National Weather Service. "Those living in areas prone to flooding should be prepared to take action should flooding develop."
A GoFundMe campaign has been started to cover the funeral expenses of the four kids.

The Kentucky floods is a developing story, and we'll update as we learn more. Information is swiftly changing and Newsner is committed to providing the most recent and verified updates in our articles and reportage. However, considering the frequency in developments, some of the information/data in this article may have changed since the time of publication.


Cover Image source: GoFundMe