A massive great dane that towered over all other dogs in the world, but loved cuddles like any other pooch, has sadly passed away at the age of 8. Freddy had held the title of the World's Tallest Dog for four years after being measured by the Editor-in-Chief of Guinness World Records (GWR) Craig Glenday and a vet in 2016.
When measured from foot to withers, Freddy stood tall at 103.5 cm (3 feet 4 inches) but when he stood on his hind legs, Freddy towered at 226 cm, or a little over 7 feet and 5.5 inches. The latter, however, is not considered by Guinness when deciding the actual height of the animal.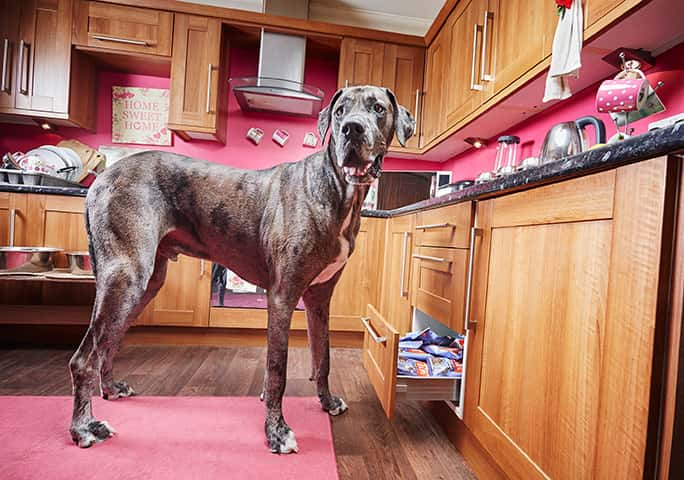 "He was not just the tallest dog but the dog with the most love and the biggest heart. A total soppy bugger who was hand fed," said Freddy's owner Claire Stoneman, a resident of Essex, UK.
It's hard not to marvel at the fact that Claire used to feed Freddy by hand considering how much food he used to consume each day. Freddy reportedly used to eat about 2.2 pounds (1 kg) of minced beef each day, along with 0.55 pound (250gm) of casserole steak, and about 0.6 pound (300 gm) of liver.
Claire used to spend almost $14,000 (about £10,000) on his food each year.
Despite the fact that, at 203 pounds, Freddy weighed a lot more than an average great dane and even towered over his sister, Fleur, the giant dog was a total cuddle pup.
Talking about meeting the dog for the first time, GWR's Glenday said, "Freddy was such a gentle giant, and it was always a pleasure to see him bounding towards you. Measuring this mountain of a dog was an unforgettable - if challenging! - experience and I'll always treasure the couple of occasions I got to share a sofa with him - there was just about enough room for the two of us!"
He might have been a giant dog but that didn't stop Freddy from doing what dogs normally do - chew on furniture. Only in this case, the chewing resulted in a serial massacre of couches. Freddy had destroyed 26 couches growing up, In all fairness, giving Fleur just as much credit for helping Freddy destroy the couches when they were puppies, Claire had said, "It was eating them when they were puppies, blatantly chewing and destroying," until she was able to divert his energy into less destructive behavior as he turned into an adult.
Claire had brought him home earlier than expected as Freddy wasn't feeding on his mum like the other puppies. "He was a runt of the litter," she had said. "I had no idea he was going to get this big at all." But she had completely dedicated her time to taking care of her four-legged companions, and did quite a good job, too. The dogs seemed quite happy following her around the home. "I just sort of exist and feed him and fuss him, and his sister," she had said.
"He was my life. My reason. My joy. My annoyance. My happiness and my ultimate sadness. He was my heart Dane. My one in a million and loved by the entire world," says Claire, after Freddy's passing.
Talking about his death, Glenday said, "Freddy brought a smile to everyone's face and will be missed by every at Guinness World Records. I'm just pleased that we got the chance to celebrate his record-breaking immensity in the books and share his story with millions of people around the world. RIP, Freddy."