A community in Australia is mourning the heartbreaking loss of their beloved kangaroo who tragically passed away after being hit by a car. Everybody in the Bright, north-eastern Victoria area, was quite taken by Whiskers, the kangaroo, not only for his giant six-foot stature but also his friendly nature. He would often visit the guests at a local holiday park and even greet them. Thus, Whiskers' untimely passage has rocked residents in the area beyond imagination and some of them have even taken to Facebook to say their last goodbyes.
Tracey Wilson, whose parents knew the muscular animal quite well, wrote a touching tribute on a community Facebook page, Australian Native Animals. "My whole family loved this roo and it was only my parents that actually got to meet him," wrote Wilson as she bid the "gentle giant" farewell. "Unfortunately dad found him hit by a car and was deceased," it continued. Speaking to Daily Mail, Wilson revealed that her parents saw Whiskers every day over the summer at the local Bright Holiday Park, which they managed.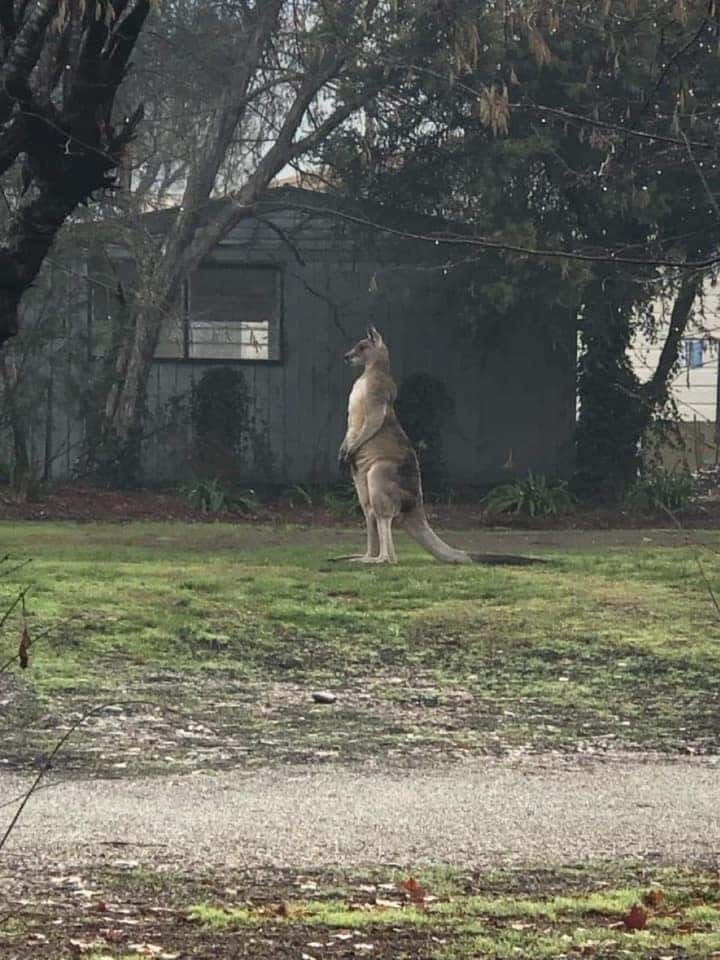 "Some days if it was quiet in the park he would just chill out in the sun all day," she shared. Wilson went onto reveal that Whiskers had been visiting the parks for years and that he would often be joined by other kangaroos. "Mum said others would turn up at times and dad was convinced they were his girlfriends," said Wilson recalling the memories fondly. Hoping that everyone remembers Wilson for the gentle soul he was, she decided to share his pictures on social media.
The unfortunate discovery was made by Wilson's father who immediately informed the council after he found Whiskers' lifeless body on a road near the park. The car that hit the marsupial was traveling in a 50km/h zone, revealed Wilson. "I don't understand how a kangaroo his size could get hit and cause enough injuries for him to die. My sisters and I never even met him and we loved him," she shared. "He'll be greatly missed in Bright." No one has come forward to admit their involvement in the accident that ended Whiskers' life.
Soon after the news of Whiskers' death reached Facebook, strangers began pouring in their love and prayers for his beautiful soul. "Very sad that you have lost your big beautiful boy, they are such beautiful emotional beings who bring a lot of joy to those that appreciate them. RIP dear boy you will be missed," wrote Justine King. User Jessie Blackcat pointed at the fact that humans are more dangerous to these animal creatures than other elements of nature. "Thank you for honoring him. Too many of these gorgeous creatures are hit by cars, many leaving orphans who can rarely survive without their mother. Too many bloody people!!!" they shared.
A third noted, "They all have their own personalities and become a big part of those of us who love seeing them. Truly sorry for your parent's loss. I'm sure they'll be looking for him for a while. You miss them. Hop free sweet boy. This cruel world doesn't deserve our unique wildlife." It's the bitter truth that car accidents and hunting are the leading cause of death in Australian mammals.
Cover image source: Facebook | Australian Native Animals