Most of the time, pregnancy brings about joy and excitement and the prospect of becoming a parent is an experience like no other. But while the happiness surrounding the event is spoken about constantly, not much is said about the pain of expectant mothers who lose their baby even before they get to meet him. And unfortunately, this misfortune can affect any woman, including The Duchess of Sussex, Meghan Markle, as she recently revealed.
On November 25, 2020, the former actor turned royalty opened up to the world about the pain of mascarriage, through an article on the The New York Times. She bravely wrote, in detail, about every moment and emotion she went through during that tragic time. As the former Suits actress went on to recount her heartbreaking experience, she didn't realize how it "would resonate with so many — new moms and older ones, and anyone who had, in their own way, been silently suffering."
"It was a July morning that began as ordinarily as any other day: Make breakfast. Feed the dogs. Take vitamins. Find that missing sock. Pick up the rogue crayon that rolled under the table. Throw my hair in a ponytail before getting my son from his crib," she wrote. "After changing his diaper, I felt a sharp cramp. I dropped to the floor with him in my arms, humming a lullaby to keep us both calm, the cheerful tune a stark contrast to my sense that something was not right."
She continued, "I knew, as I clutched my firstborn child, that I was losing my second. Hours later, I lay in a hospital bed, holding my husband's hand. I felt the clamminess of his palm and kissed his knuckles, wet from both our tears. Staring at the cold white walls, my eyes glazed over. I tried to imagine how we'd heal."
But the public aren't the only ones supporting Prince Harry and Meghan in their journey to healing. In fact, a voice of support came from home through Prince William and Kate Middleton. The reported rift between the brothers had allegedly started after Prince Harry announced he's going to step down as senior royals with wife Meghan, and they'd be moving to the United States, according to Express UK. In fact, they hadn't spoke to each other for months. However, in the wake of Meghan's emotional article, the senior royals reached out to the devastated couple.
Royal expert and author of Kate: The Future Queen, Katie Nicholl, told OK! Magazine, "I'm told that William and Kate were in touch with Harry and Meghan when this happened in July. The whole family has reached out to offer support. I don't know if the royal family were aware she was set to go public with this but they would think it was a hugely brave thing to do. I do think a situation like this is what will help heal rifts and bring the family back together. Hard times like this encourage communication."
After all, as Meghan described, "Losing a child means carrying an almost unbearable grief, experienced by many but talked about by few. In the pain of our loss, my husband and I discovered that in a room of 100 women, 10 to 20 of them will have suffered from miscarriage. Yet despite the staggering commonality of this pain, the conversation remains taboo, riddled with (unwarranted) shame, and perpetuating a cycle of solitary mourning," she said.
This isn't the only time that the foursome have taken the time to reach out to each other, especially since this pandemic has forced families and loved ones to stay apart. Author of Harry and Meghan's recent biography Finding Freedom, Omid Scobie told the outlet, "I know that Harry and William had many private conversations when their father was ill with Covid. Similarly with Meghan's miscarriage, it's understandable that this tragedy would cause the foursome to stay in touch and check in on one another."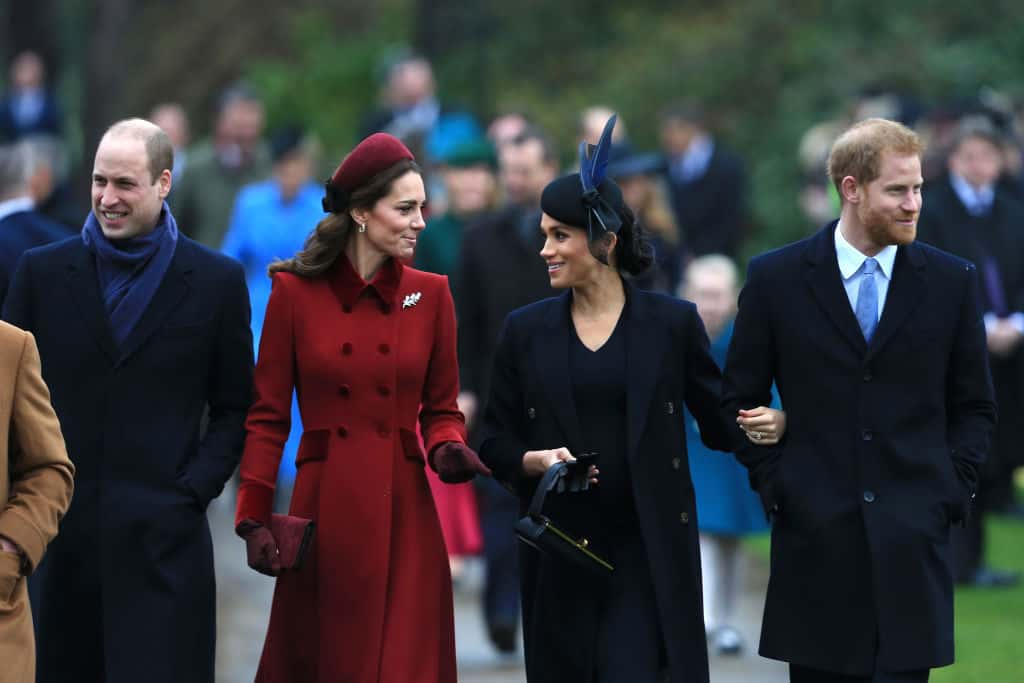 As for Meghan Markle, according to a royal source who spoke to Us Weekly, her mom, Doria Ragland, has played a key part in helping the couple through their grief. "She's guiding Harry and Meghan—helping them heal and come to terms with their painful loss," the source explained. "But for anyone who has suffered from a miscarriage, it's something you never fully get over. Harry told them (his family) early on when it happened, but as it's such a private matter, they kept it to themselves," the Us Weekly source said. "[Prince] Charles, in particular, has been supporting the couple through their grief and regularly checks in on them."
Though it took opening up about a traumatic experience for this chasm to start closing, at least this healing of bonds between the families may make them stronger and lead them into a more united future.