Four years after her family spent birthdays, holidays, and anniversaries at the White House, Melania Trump celebrated her first birthday in Palm Beach, Florida, just months after her time as the country's first lady came to an end. As she turned 51 years old, Melania wrote a short message on Twitter to thank people for sharing their wishes.
Back when the Trumps were still in the White House, Donald Trump reportedly built himself a reputation for buying simple gifts for his wife on special occasions, according to Daily Star. On Melania's 48th birthday in 2018, Trump appeared on Fox News and admitted he "didn't get her so much" for her special day. At the time, Trump suggested that his interview was enough of a gift, as he said: "I picked a very, very special day because it's Melania's birthday. So I said, 'Let's do it, on Melania's birthday,' so Happy Birthday to Melania."
When asked about what he bought his wife, Trump said: "Well I better not get into that, because I may get in trouble. Maybe I didn't get her so much... You know, I'm very busy to be running out looking for presents, okay?" "A beautiful card and some beautiful flowers" is what he finally admitted he got her back then.
The following year, on Melania's 49th birthday, the White House was slammed on the internet for sharing a picture of the former first lady sitting on the edge of a couch, surrounded by an army of photographers with no sign of her family members around.
On Christmas eve the same year in 2019, Trump once again seemed to exercise simple gift-giving habits after he said he was "still working" on getting a gift for his wife with just hours to go for Christmas day. "I got her a beautiful card. I'm still working on a Christmas present," Trump said on the eve of the big holiday. For Melania's birthday in 2020, Trump sent out an email campaign where he said, "I want to surprise her with a birthday card signed by 1 MILLION Americans from all around the Country."
But an article by The Atlantic suggested that Trump and his political allies wanted to collect details of their supporters under the pretext of Melania's birthday. Apart from the signature for Melania's birthday card, the email also asked receivers to give out their zip codes, email addresses, and mobile numbers. And it may have been a disguised plot to build a database of Trump supporters ahead of the 2020 elections.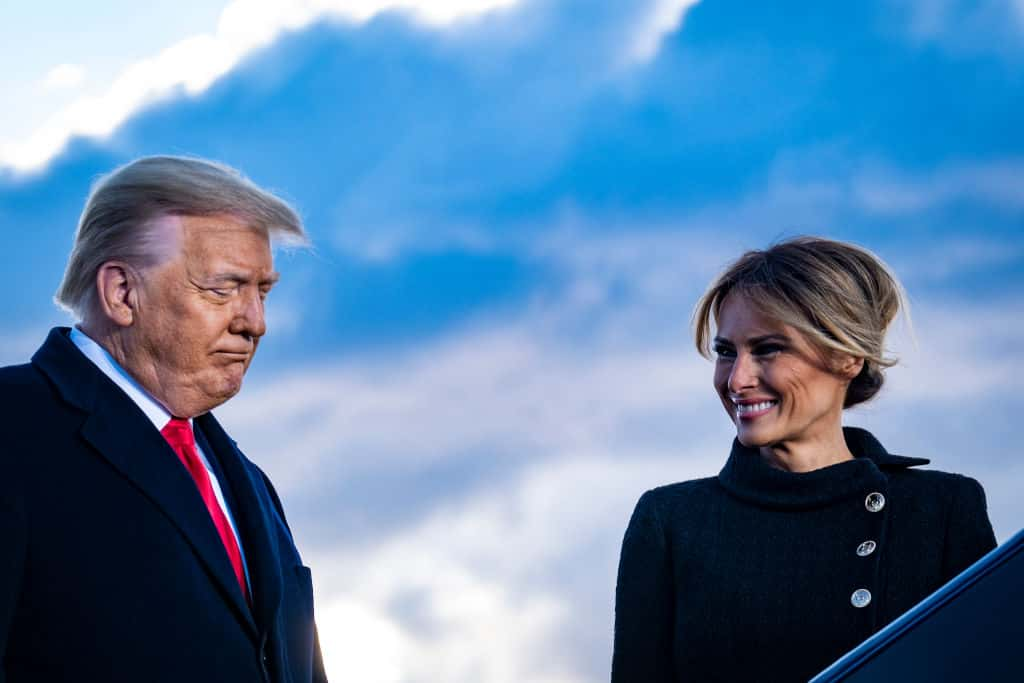 With the Trump reign in Washington now over, the former president is still fairly active in the limelight, and he has started making public appearances and giving interviews as well. Meanwhile, Melania seems to be wallowing in the quiet life at their Mar-a-Lago estate and relishing frequent trips to the spa.
Now that she's no longer burdened with the title of being first lady, Melania is reportedly focusing more on their son, Barron, and has also been taking time out for her parents, according to PEOPLE.
Earlier in April, one source said: "Melania acts as if she is not truly happy but has accepted what is required of her to live the lifestyle she relishes." However, on the other hand, a Trump spokeswoman insisted: "Mrs. Trump is enjoying life at Mar-a-Lago. She is focused on being a mother and putting her family first, while working on various projects that will take time to finalize."
Cover image source: Getty Images | Photo by Chip Somodevilla