Losing your child is perhaps one of the toughest experiences that anyone can face in their life. Words often don't do justice to the pain they feel. However, you still do hear the profound grief they feel, even if you can't fully understand it, much like the words of this Texan mother who lost her daughter.
In October 2020, there was news of an 8-year-old girl from Texas dying of dehydration after her guardians made her jump on a trampoline for hours with no water, according to Boston25News. Jaylin Schwarz, from Odessa continuously in 110-degree heat.
As per Fox17, her biological mother, Alysha Anderton, recently spoke out on a video about the tragedy, apologizing for not saving her little girl from her allegedly sadistic legal guardians. She said, "I was surprised it wasn't more than just dehydration because the little girl that I saw in the casket did not look like an 8-year-old girl. She was so, so tiny. She was so tiny," Anderton said tearfully.
Choking on her words, she continued, "The most important thing I needed to tell them was that I'm sorry. I'm so so sorry that I didn't bring you back home like I promised you that I would."
According to NYPost, Alysha had lost custody of her daughters Jaylin and her younger sister Jayde four years ago because she has an addiction issue, which she couldn't overcome within the stipulated time fixed by child protective services. The two girls had to move from their home in Forney, Texas, to live with their mother's stepsister Ashley Schwarz and her husband Daniel Schwarz.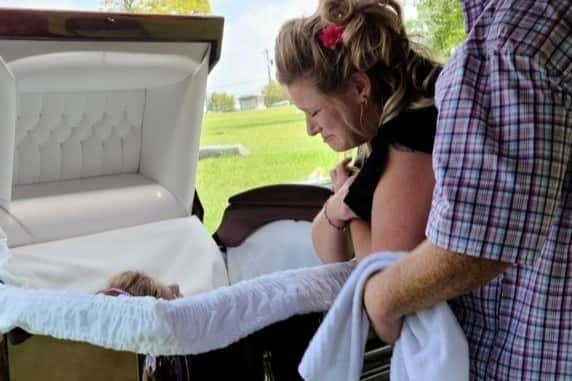 "And then, oh, I still remember it like it was yesterday. The first time I saw her in almost four years she was lying in a casket and that's not fair," the distraught mother said, as per CBS7. "That's not fair to me. There's not a day that goes by that I don't totally break down."
"What upsets me the most is that I never got to see her alive again. When they took them, I never got to say goodbye. So I've never had closure for the past four years."
"I hope she knows my heart now and she knows that I was trying very, very hard to get to them and I could have saved her," she added.
Authorities arrested the girl's guardians weeks after Jaylin Schwarz died, Odessa police said in a news release on October 13. The couple was charged with Capital Murder. According to the Odessa Police Department, the girl was found dead by the police officers when they responded to a medical call on the 4300 block of Locust Avenue back on August 29, as per CBS7.
While investigating her death, detectives discovered that the couple had punished Jaylin by making her "jump on the trampoline without stopping for an extended period of time". They also forbade her from eating breakfast and refused to let her drink water "because she was not jumping." The authorities also found that the temperature of the trampoline and atmosphere was approximately 110 degrees and the ground was approximately 150 degrees. An autopsy later determined that Jaylin died of dehydration.
The grieving mother is taking comfort in her baby girl being buried nearby, and goes to visit her grave everyday. "If that's all I get now, I'll take it. I'll take it and I will treasure it for the rest of my life," Alysha said. "If that's all I'm given when it comes to her if that's all I'm given I will take it any day ……. And I will make it beautiful just as she was in life."
Alysha is now fighting to regain custody of her other daughter, Jayde, who child protective services placed in the custody of the Schwarzs' babysitter. A GoFundMe page has been started to help her financially for the legal fees of the same.