In a tragic turn of events, two FBI agents were killed and three others were left injured in a shooting on the morning of February 2, 2021 while they were executing a search warrant at a home in Sunrise, Florida, according to NBC News.
The incident occured shortly after 6 am at a home on Nob Hill Road, according to police in Sunrise, near Miami. The FBI stated that officers were there to serve a federal court-ordered search warrant in a case involving violent crimes against children. Officials said they were aiming to seize evidence in a child-pornography investigation, as per The Wall Street Journal. However, things didn't go as planned and the suspect began shooting and then barricaded himself inside the complex, a Sunrise city spokeswoman said.
As the incident was unfolding, law enforcement officials shut down a main thoroughfare in the area advised nearby residents to remain in their homes, according to the Sunrise Police Department. "There were FBI agents and SWAT all over the place," said Alyssa Ostroff, a 28-year-old living in an apartment building next to the suspect who woke up to find police lights flashing. A little after 9 A.M., she heard law-enforcement personnel on a megaphone say they had the area surrounded and asked the suspect to come out with his hands up. "It got really quiet after that," she said.
Special Agents Daniel Alfin and Laura Schwartzenberger were shot and killed in the shootout, FBI Director Christopher Wray said in a statement. Of the remaining three agents, two were injured and taken to a hospital where they were stabilized while the third did not require hospitalization.
36-year-old Alfin was born in New York and joined the bureau in 2009 in Albany, said George Piro, special agent in charge of the Miami field office and who had been working with him since 2017. The late FBI agent is survived by a wife and child.
Daniel Alfin and Laura Schwartzenberger had spent more than six years investigating child-exploitation cases and had been involved in high-profile cases, added Piro. According to Nicholas Weaver, a computer security expert at the University of California at Berkeley, Agent Alfin's relentless work in investigating child exploitation not only broke legal ground but also let to the rescue of hundreds of children, as reported by sun-sentinel.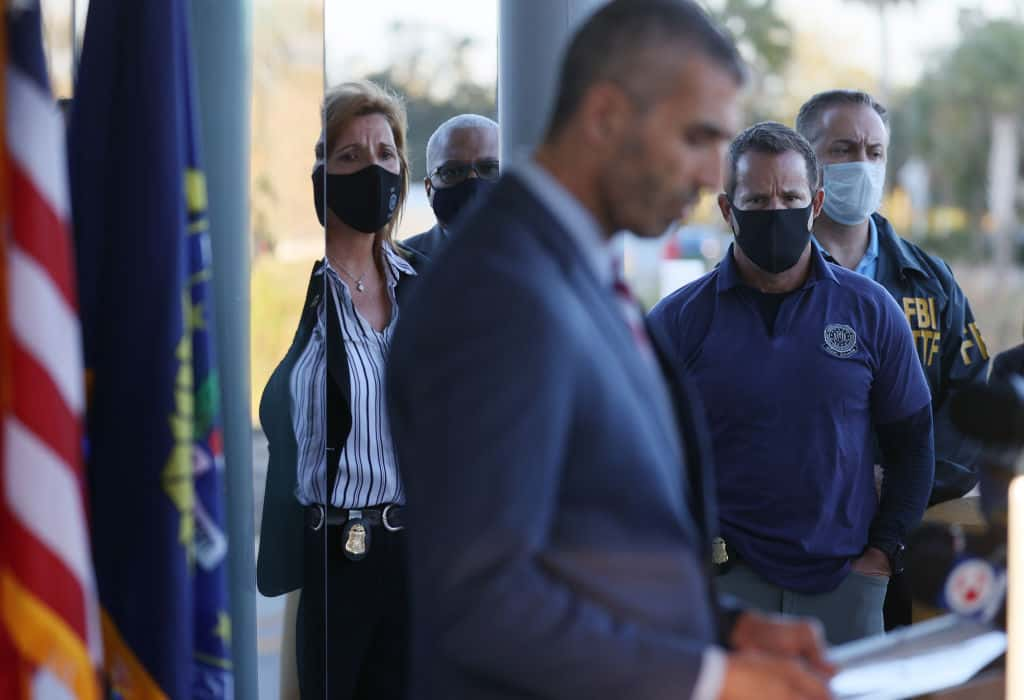 "His work speaks for itself: You just read the court cases and transcripts and it breaks your heart," Weaver said. "I can't even hope to estimate the number of children Agent Alfin and Agent Schwartzenberger's investigations have rescued from horrific circumstances. The loss of both is a tragedy," Weaver said.
Laura Schwartzenberger, 43, was born in Pueblo, Colorado and had joined the FBI in 2005 in the Albuquerque field office before being reassigned to Miami in 2010. She is survived by her husband and two children.
"Every day, FBI special agents put themselves in harm's way to keep the American people safe. Special Agent Alfin and Special Agent Schwartzenberger exemplified heroism today in defense of their country," Christopher Wray said.
"The FBI will always honor their ultimate sacrifice and will be forever grateful for their bravery. We continue to stand by our FBI Family, and the families of these special agents, in the days to come, bringing every resource we can to get through this together."
"The operation this morning in Sunrise ended tragically, with the subject opening fire on the members of the search team," Piro said in a statement on the day of the incident, adding later, "Dan and Laura left home this morning to carry out the mission they signed up for and loved to do, to keep the American people safe. They were valuable members of the FBI and will forever be heroes," according to The Washington Post. "The FBI is a family, and our chosen profession is fraught with danger. Today, this grim reality has taken two of our best from our family."